Tokyo-based ALE Co., Ltd. (ALE), led by CEO Lena Okajima, with the mission to make space closer for people and Tokio Marine & Nichido Fire Insurance Co., Ltd., a major insurance company and domestic leader in the field of space insurance (Tokio Marine & Nichido) concluded a Memorandum of Understanding (MOU) on 24th February 2022 to cooperate on initiatives to create a sustainable space environment and towards the commercialization of a debris mitigation device utilizing EDT (ElectroDynamic Tether) (EDT device).
Through this cooperation, both companies are aiming to accelerate the commercialization of the EDT device and create a sustainable space environment.
■ Background of MOU and details of cooperation
ALE's vision is to "anchor space into our culture to empower humankind to new endeavors" and the company aims to contribute towards the sustainable development of the humankind, the range of whose activities may well expand beyond the Earth.
Working towards the realization of this vision, ALE is developing space entertainment, such as man-made shooting stars, that is aimed to spark people's curiosity; accumulation and utilization of Earth's atmospheric data which will enable to help characterize the mechanisms behind climate change; and the prevention of space debris, the maintenance of the orbital environment and the development of the EDT device that contributes to creating a sustainable space environment.
This MOU will progress the following initiatives while evolving the debris mitigation project in line with ALE's vision and combining ALE's knowledge and technology about space equipment development with Tokio Marine & Nichido's expertise in risk management.
 ・Examine business feasibility related to EDT device
 ・Technological development of EDT device
Tokio Marine & Nichido announced the cooperation in a press release concerning the space project on 24th February.
(Reference) Tokio Marine & Nichido press release(Japanese):
https://www.tokiomarine-nichido.co.jp/company/release/pdf/220224_01.pdf
■ Debris mitigation device utilizing EDT (EDT device)
This device aims at space debris mitigation measures. It will be loaded onto spacecraft (satellites, rocket upper stage, etc.) before launch and will extend a long tether (EDT) in space after the completion of the spacecraft's mission. Using the Earth's magnetic field and atmospheric drag, the orbital altitude is lowered in a shorter period of time and enables the satellite to re-enter the Earth's atmosphere and burn up. As part of the JAXA Space Innovation through Partnership and Co-creation (J-SPARC) project, ALE has developed this world's first PMD (*) device using a carbon nanotube electron source and EDT.
Due to the recent flurry of space development, it is agreed that if flying objects in space increase, in the near future they will start to collide, and space debris will self-propagate and generate in large volumes. As a result, there are concerns raised that there will not only be an increase in risk of destruction of existing satellites but also an adverse effect on planned satellite launches and the use of satellite data, which is becoming a part of the social infrastructure.
In addition, actions are being taken in various countries around the world and by international organizations to impose legal obligations on businesses to implement measures to reduce space debris. Therefore, artificial objects which are going to be launched into space in the future will be demanded to take measures to prevent themself from becoming space debris, and expectations of this device are heightening according to trends in this market and industry.
*PMD (Post Mission Disposal): method to promptly deorbit spacecraft after completion of mission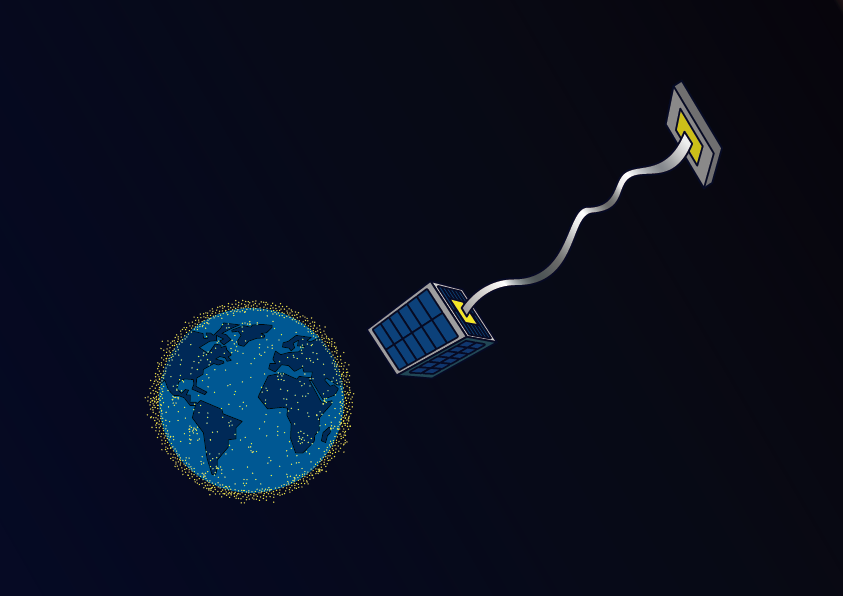 Debris mitigation device utilizing EDT
■About ALE Co., Ltd.
Company Name: ALE Co., Ltd.
Address: 2-11-8 Shibadaimon, Minato-ku, Tokyo 105-0012, Japan
CEO: Dr. Lena Okajima
Established: September 2011
Nature of Business: Space Entertainment (Sky Canvas), Atmospheric Data, Debris Mitigation
URL: https://star-ale.com/en/
■ About Tokio Marine & Nichido Fire Insurance Co., Ltd.
Company name: Tokio Marine & Nichido Fire Insurance Co., Ltd.
Address: 2-1 Marunouchi 1-chome, Chiyoda-ku, Tokyo
President: Shinichi Hirose
Established: August 1879
Nature of Business: non-life insurance, agency, defined contribution pension plan operational management, automobile liability insurance guarantee commissioned business
URL: https://www.tokiomarine-nichido.co.jp/en/